The Health Careers Conference is a program in partnership with Fordham Science and Technology Entry Program (STEP).
July 2019 Program
Future healthcare professionals, 15 high school students, from Fordham University STEP participated in the Health Careers Conference in July 2019. Weill Cornell Medicine staff, medical students, residents, faculty, nurses, and physician assistants shared their professional journey and information about their fields. Chief Resident Dr. Maria Pabon and 5 residents provided a tour of the hospital on the second day. The conference concluded with a Vital Signs workshop with Dr. Maurice Hinson.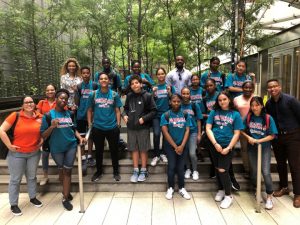 July 2020 Program
Due to the pandemic, the 2nd Health Careers Conference took place virtually and was attended by 40 Fordham University STEP participants in July 2020. The virtual program included a lecture by Dr. Morales on health equity and a panel discussion on health careers. At our last session, the students presented their fabulous mini-projects on health issues and social determinants, which included powerpoint presentations, TicToks, poetry, and infographics, to WCM faculty and residents. Visit the 2020 Health Careers Conference page for a listing of projects presented by students.